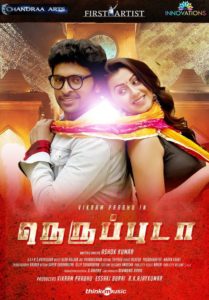 Neruppuda Synopsis: Guru and his friends' ambition is to become firemen, but a run in with a gangster threatens to bring their dream crashing down.
Neruppuda Review: Neruppuda has five friends bound by their passion. Right from childhood, Guru (Vikram Prabhu, who does a good job as an earnest youngster) and his friends' ambition is to become firemen, and save people during fire accidents. They even have their own fire engine. Guru also has a romantic track, with Vasumathi (Nikki Galrani), the daughter of a senior fireman who the friends look up to, but this is entirely functional and adds to nothing other than the length of the film (a duet that pops up in the second half is, especially, so out of place).
Just when their dream of becoming professional firemen is within their reach, there crops up a problem. One of the friends runs into a drunken man (Vincent Asokan) who ends up dead after the fracas. And the next day, they learn that the guy, Sadha, was the right hand man of notorious gangster, Puliyanthoppu Ravi (Madhusudhan, all sound and no real fury). Or, as a character in the film puts it, he was like Rajini for Mammootty in Thalapathy.
An enraged Ravi tries to track down the people responsible for his friend's death, while the friends desperately plot to save themselves.
Neruppuda, at first, feels like a tried-and-tested action film — a group of youngsters versus a powerful gangster. But Ashok Kumar keeps subverting the masala movie cliches that he throws at us. We think the film is going to be about Guru's schemes to escape the wrath of Ravi, but then something unexpected happens. And just when we are told that the friends are safe, and start to heave a sigh of relief, another unexpected event happens. In fact, the film's intermission is a plot point that most action movies reach only during their pre-climax portion.
Even after that, we keep getting something unexpected — we think Guru has triumphed Ravi once and for all, but he pops up again. And then, we realise there could be an unseen threat. Guru suffers a loss, and his predicament — of not knowing who might be behind the crime — neatly ties up with the initial dilemma of Ravi, when he was baffled by who might have killed Sadha.
When Ashok Kumar reveals the final twist, we are definitely surprised. However, this revelation isn't earned and feels more like a twist for twist's sake. Like the recent Nibunan, the film is content to reveal the friends' unseen enemy as a character that enters the plot only at that point. Even the (comeback) actor playing the role is credited only in the end credits, as it happened in that film. This lack of foreshadowing lessens the impact of the climax.