Check out the much-awaited MASS Trailer of "Vendhu Thanindhathu Kaadu" featuring Silambarasan, Siddhi Idnani, Raadhika Sarathkumar.
Surely goosebumps are guaranteed. The Trailer looks promising & powerful and Gautam Menon never fails to impress us also it leads to the second part. Seems like a storyline will be a common man becoming a Gangster.
ARR music travels throughout the story. Siddhi Idnani's love portion looks impressive. Silambarasan Action sequence looks Real & rustic. It looks líke VTK will register the biggest opening in Simbu's career. Since the film trailer is excellent raw and rustic and the film has an excellent hype which has grown even more after the release of the trailer. The expectation meter of the film is high and the trailer ends with a surprise elements with a marana mass look like Yash's KGF.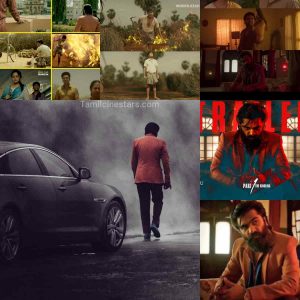 As my guess, it will be a typical Gautham Menon movie making even rural background with raw & rustic…Probably will be kind of slow pace with some action elements.
So go with no sky hype ..see with less hype so that won't let you disappointing
Cast & Crew:
Starring: Silambarasan TR, Siddhil Idnani, Raadhika, Neeraj Madhav, Siddique, Aangelina Abraham
Directed by: Gautham Vasudev Menon
Written by: Jeyamohan
Music by: ARR
Produced by: Vels Film International
Released by: Red Giant
DOP : Siddhartha Nuni
Production Designer: Rajeevan
Editor: Anthony
Lyrics by: Thamarai
Choreography by: Brinda
Additional Vocals: Rakshita Suresh & Deepthi Suresh
Styling and Costumes by: Uthara Menon
Action Directors: Lee Whittaker, Yannick Ben
Executive Producer: Ashwin Kumar
Colorist: G Balaji
Sound Design: Suren G, S Alagiakoothan
Sound Mix: Suren G
Dialogue Recordist: Hafeez